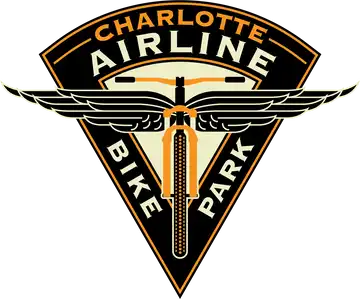 Trail Statuses
status = Entire park is Open.

status = Park is Open, Gravity Terminal is Closed

status = Entire park is Closed.
What is Airline Bike Park?
Airline Bike Park is the first purpose built, full service, modern mountain bike park in the City of Charlotte proper. This trail system is made possible by a partnership between Charlotte Water, Mecklenburg County Parks and Recreation, and Crescent Communities. Eventually, Airline Bike Park will be the focal point within a larger trails system situated in the midst of the River District Development, currently underway by Crescent Communities.
Airline Bike Park is located at 8101 Dixie River Rd, Charlotte NC 28278. The Park is in its soft opening phase and is OPEN ON THE WEEKENDS. May open other days of the week but check here for current status. The trail system features six miles of flowing single track WHICH CHANGE DIRECTION DAILY (ODD DAYS CLOCKWISE, EVEN DAYS COUNTER-CLOCKWISE). The Kitty Hawk Trail DOES NOT CHANGE DIRECTION and is always ridden counter-clockwise from the parking lot to access the rest of the trail system. Check the trailhead map in the parking area before you start your ride to be familiar with the route depending on the day's trail direction.
The Trails
The Gravity Terminal area at Airline Bike Park is currently home to two jump trails and multiple natural hand cut downhill style trails.

THE Airline ⬥, is an advanced level trail which is comprised of a set of challenging features including a road gap, a triple, a couple step ups, a long table, a large hip, and more.
Spruce Goose , is an intermediate level trail and is our newest addition to the park. This trail features long sweeping berms and a collection table top jumps that get progressively bigger the further down the trail you ride, providing riders an excellent opportunity to progress their skills.
In addition to the Gravity Terminal, we have over 6 miles of beginner and intermediate level cross-country trail as well as a dirt pumptrack.
A beginner flow/jump trail will soon be under construction in this area and will be built by Community Trail Design.
Fundraising
Airline Bike Park Phase II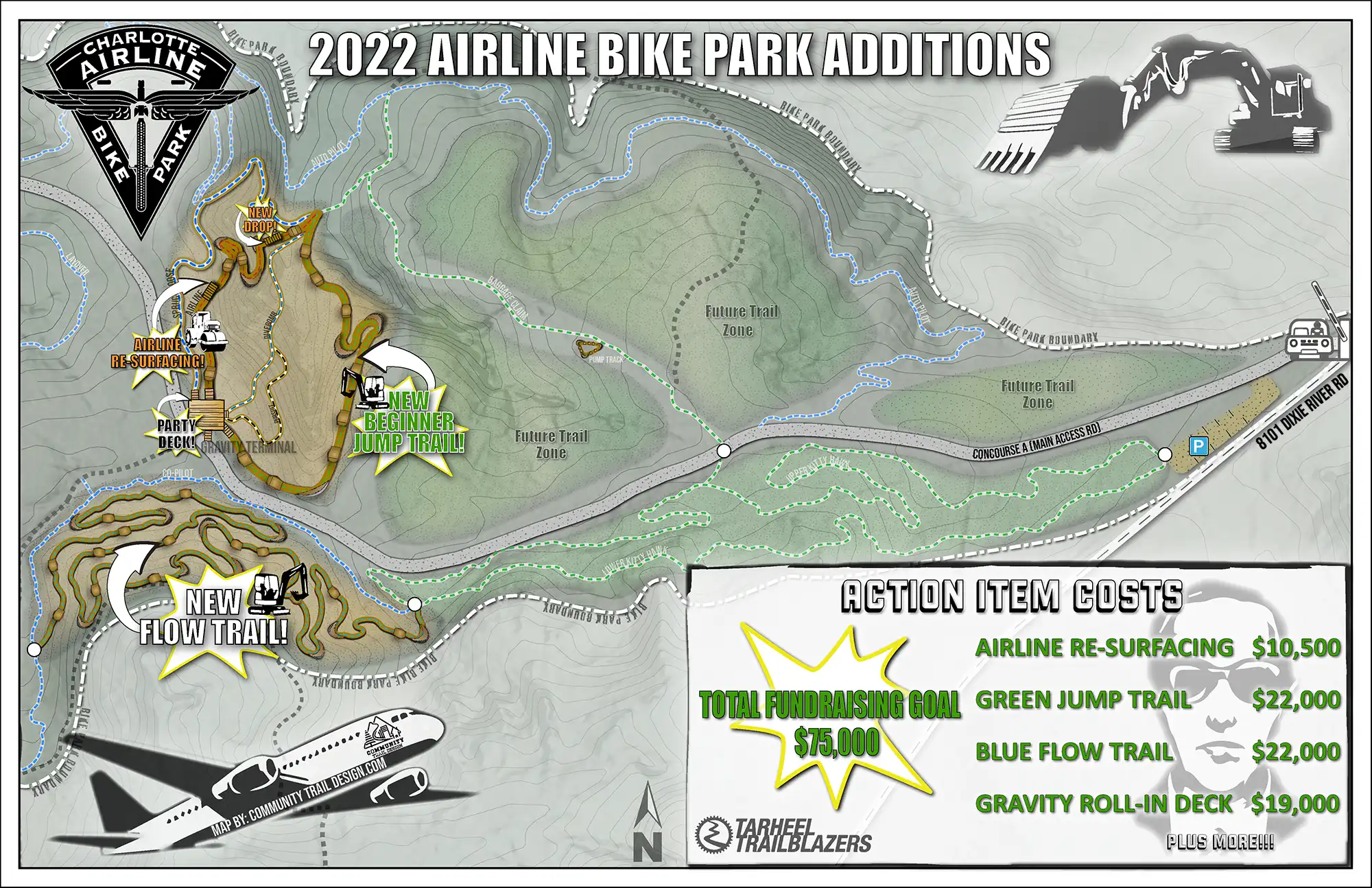 Project Purpose
To expand the trail offerings at Airline Bike Park for all ages and abilities of mountain bikers. More awesome trail and gravity jump lines for the mtb community to enjoy!
Who is running this campaign?
The Tarheel Trailblazers are launching a capital campaign to construct the next phase of trail and park amenities at Airline Bike Park
What is this campaign funding?
This campaign is funding 4 major improvement/expansion projects at the Airline Bike Park:
Drop in platform for the Gravity terminal to provide riders with extra speed and a queueing area for dropping in to the gravity lines
This drop in will provide the appropriate speed for the lines starting at the Gravity Terminal so less pedaling will be required to get up to trail speed
Trailblazers volunteers will be designing and building this new Drop in platform with 4 separate roll ins
New Green level gravity trail beginning at the Gravity Terminal

This trail will be designed with progression in mind and will be rideable by anyone who has the skills to ride the single track at ABP
Community Trail Design will be constructing this trail, creator of the Spruce Goose jump trail at Airline Bike Park, and designer of the Rocky Branch Park Trail Enhancement Project
Expect large rollers and fun progressive features to give riders the feeling of carrying speed through gravity obstacles!
The trail will have access to the baggage claim trail for easy climbing access back to the gravity terminal

Complete resurface and rework of the original black diamond "Airline" jump trail

The original Airline just trail will be resurfaced and reworked to increase the size of the jumps and the speed of the trail
Terra Tek Trails will be performing the construction work, the same builder who installed the Airline back in spring of 2017
Expect the reworked Airline to feature larger jumps, larger berms, more speed, and a new signature drop feature at the bottom of the trail!

New ~ 1 mile trail loop on the south side of Concourse A connecting to Kitty Hawk Loop and the Co-pilot trail.

This trail will be littered with berms and rollers to maximize speed and the open terrain in this zone!
Horton Trail Designs will be building this loop, the creator of trails such as Warrior Creek, OVT, Zach's Fork, and Mazeppa Park
Air Miles fundraiser
Donor's will receive 1 entry to win any of THREE raffle prizes for every 10 dollars donated to the Airline Bike Park Air Miles Fundraiser. The raffle will run from March through September and we will be giving away a set of Industry Nine Hubs in April, A Specialized Stumpjumper Evo frame (from Bikesource) in June, and a Cane Creek mystery product for the campaign wrap up in September!